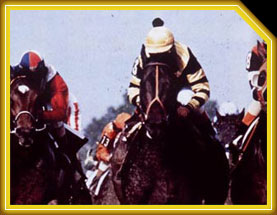 The Triple Crown, winning the Kentucky Derby, Preakness Stakes and Belmont Stakes, is the pinnacle for three-year-olds (colts, fillies, and geldings) and for horse breeders. Sir Barton's victories in the 1919 Kentucky Derby, Preakness and Belmont Stakes became the starting point for the Triple Crown and only 10 other horses have gone on to win the Triple.

The phrase "Triple Crown" was not associated with the feat until 1930, when the popular sportswriter Charles Hatton, of the Daily Racing Form, coined the phrase in writing about Gallant Fox's victories in the three races.

The Triple Crown was given official status in 1987, when the three tracks created the Triple Crown Challenge, with a $5 million bonus to any horse that won the Triple Crown. If no horse won all three races, a $1 million bonus was awarded to the horse with the best overall record. The challenge was discontinued after 1993. The Visa Triple Crown Challenge has been ongoing since 1995 and it will pay a $5 million bonus to any horse that can win the feat.